Shipping Rate Comparison
Comparison Shop: Duvall Print & Post vs. Your Rates, Your Shipping Store, or The Post Office!
Sept 8th, 2014: USPS Lowered their rates for Approved Shippers so many of our USPS rates are now even cheaper than at the Post Office itself. The data below has not yet been updated to reflect these new savings, so we can now save you even more!
In the shipping business, they say it's foolish to compete on price, and that it's hard to compare rates. People tend to assume that using a shipping store will cost more than going to the Post Office … but that's not necessarily true! So Duvall Print & Post dares to go where others fear to tread: by posting no-nonsense price comparisons online. Our rates are set to save you money, in addition to all of the other great benefits we offer (see the
Duvall Print & Post Difference Page
for details). Duvall Print & Post is your "go to" destination for fast, convenient, and economical shipping. We are also happy to provide quotes by email, chat, or phone!
One of the biggest benefits we offer is comparison shopping on shipping rates. Even if we offer the same price as the Post Office, we will find you the right box and method that will get you the best rate, and we will provide you with a higher level of service. Many places won't quote all of your shipping options, and the Post Office can't even show you FedEx rates if you asked. Other places won't tell you if using carrier packaging is cheaper, or that you can save money by packing your items a different way. We will always use our vast shipping expertise to try and get you the best possible rate. And to make things even more convenient for you, we will fill out any forms or paperwork you need, and we will email the tracking numbers to you!
A little known secret in the industry is that shipping stores set their own margins and markups, sometimes below suggested retail and sometimes above. A shipping store's wholesale cost is based on its agreement with the carrier and the volume of shipping it does. While FedEx gives stores like ours a larger discount (so our rates are frequently lower than what FedEx.com will quote), the US Postal Service does not give stores a similar discount. This means that to offer USPS services we sometimes have to charge more than it costs at the Post Office for certain services.
Other factors that affect the price the carrier charges for a shipment
:
1) Where it's going
2) Whether it is going to a residence or a business
3) How much it is insured for (against loss and damage)
4) How much it weighs
5) Size of the shipping box
First, keep in mind that any package 13 ounces or less can go First Class Mail with Duvall Print & Post. The cost of First Class Mail with us is generally $3 to $5 depending on the destination, and includes tracking. Based on weight, shipping with FedEx at Duvall Print & Post can save you money versus using the Post Office. The chart below shows you how much you can save using FedEx at Duvall Print & Post over the Post Office, based on the weight of the package and its destination. The chart compares our cost savings versus the Post Office when shipping from Duvall to commercial and residential locations in California and Florida.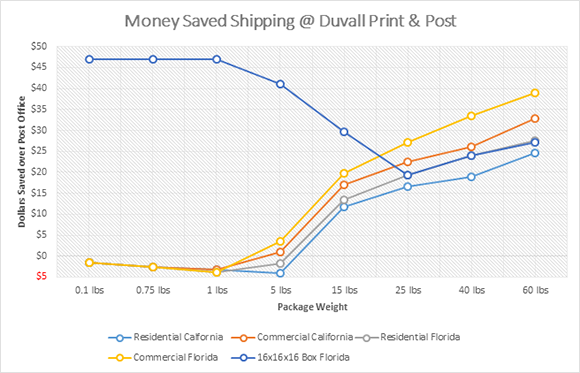 The chart shows that if you're shipping very light items (3 lbs or less) you'll save money at the Post Office. But once your package weighs about 5 lbs or more, you'll save a lot of money by using our services to ship via FedEx or our Postal Rates. This is especially true when you're shipping things in a box. For example, you'll save about $30 shipping a square box 16" on a side weighing 15 lbs to Florida. Rates are fairly similar for other box shapes (say 24"x24"x6") and these are not very large boxes by any means. For example, a 24" x 36" framed picture will end up in a much bigger box for shipping. Regardless of weight, the size of the box can affect pricing with certain carriers. Shipping that picture with USPS Priority Mail will cost $43.80 even if the item only weighs a pound, while FedEx rates will stay the same at $15.97 for residential delivery for a one pound package. No matter the weight of the package (from 1 lb up to 40+ lbs), you would save between $18 and $32 shipping with our FedEx service.
Flat Rate boxes (available in many shapes and sizes) seem like a great idea. They ship at a fixed cost, no matter the weight, for however many items you can fit inside them. But beware, there are a few major problems you can run into if you are not careful:
Sending your item in a flat rate box can easily cost more than sending the item in a non-flat rate box. For example, a Priority Mail Express flat rate box (13.5" x 12" x 3.5") is $44.95 for 1-2 day service. But sending the same 5 lb item with Priority Mail Express service in a non-flat rate box would only cost $34. You could have spent 30% more because you picked the wrong box!
The largest flat rate box is only 12"x 12" x 5.5" – so many items are not able to fit.
Duvall Print & Post carries both flat rate and non-flat rate boxes, so we can provide you with quotes for both methods and multiple carriers: USPS flat rate and the new FASC FedEx flat rate. We can help you see if sending your package using flat rate shipping is really going to save you money and which flat rate service is the best.
In addition to saving you money on higher weight packages, we often have much better rates on expedited shipments (those that ship within 1-2 days). Below is a chart showing some of our expedited shipping options based on a 6" x 6" x 6" box going to California.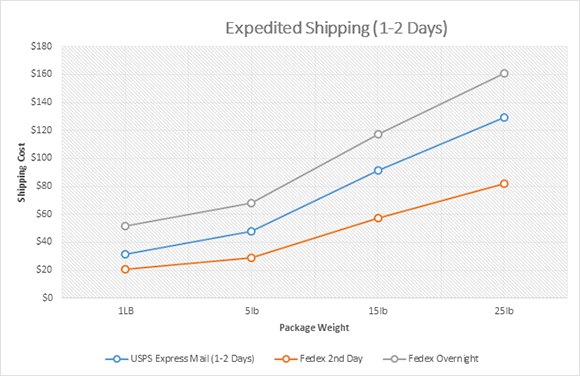 USPS Express Mail, which takes 1-2 days for delivery, costs more than the comparable FedEx 2nd Day delivery option. You'll spend about $20 less to ship a 5 lb box via FedEx 2nd Day versus USPS Express Mail. If you do prefer to ship via the Post Office, some USPS Express Mail rates are actually cheaper here in our store than at the Post Office (and most others are very close). Besides simply saving you money, there are multiple reasons for preferring FedEx, including guaranteed delivery dates, delivery scheduling, and the ability to have packages held at a local FedEx location. For further details on the many benefits of FedEx with us, please see our
FedEx page
.
We are able to offer FedEx Overnight envelopes, which go anywhere in the contiguous United States for under $40 (and up to 10 lbs)!* In addition, FedEx International Priority envelopes to many parts of the world are sometimes cheaper than even a domestic overnight. Envelopes to Mexico, Canada, and even many European countries are under $30.* Certain countries are best served by DHL services and we can show DHL, FedEx, and USPS Rates side by side for you to be able to make an informed choice!

Do you have lots of small things to send to someone across the country that could easily fit inside a large FedEx padded envelope (15"x12" flat and up to 8" wide)? FedEx has Free Padded Paks that can be sent anywhere in the U.S., guaranteed to arrive in 3 days or less, for only $14.38, weighing up to 50 lbs. We have many other options to try and get you the best rate for what you need, fixed price or weight based!

*These rates are excluding extended delivery areas


Rates as of March 2014.